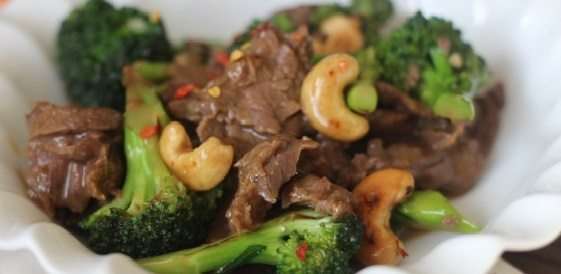 Ingredients:
~1 lb. flank steak, thinly sliced
~3 crowns of broccoli, cut into florets
~½ cup toasted cashews
~1 C coconut aminos or tamari (gluten free soy sauce)
~½ C orange juice
~3 T honey
~2 garlic cloves, minced
~1 tsp fresh ginger, grated
~½ tsp red pepper flakes (add more for more spice)
~3 T arrowroot powder
~salt and pepper (to taste)
~couple tablespoons of coconut oil
Instructions:
Whisk together coconut aminos, orange juice, honey, garlic, ginger, red pepper flakes, arrowroot powder, salt and pepper.
2. Place sliced flank steak in a shallow bowl and pour whisked mixture over the meat to marinate. Place in refrigerator for 30 minutes. (or longer if you have time or are preparing the meat a day ahead)
3. Once the meat has marinated, add a tablespoon of coconut oil to a skillet over medium heat. When hot, add broccoli florets, salt and pepper. Cover pan to help steam the broccoli for a few minutes until cooked to your preference. Remove from pan and set aside.
4. Add another 1-2 T of coconut oil to the pan and add the marinated beef and extra marinade. Cook meat to your preference, then add broccoli back to the pan, along with toasted cashews.
5. Mix together and serve.