What's so special about this Paleo pumpkin bread?  Well, aside from being quite tasty, as well as being grain free and dairy free, it's also NUT FREE!  While I don't have an issue with nuts and I use almond flour in a lot of recipes, I have clients and friends who don't tolerate almonds or almond flour.  This Paleo chocolate chip pumpkin bread is made from coconut and tapioca flours and is a great option for a nut free bread!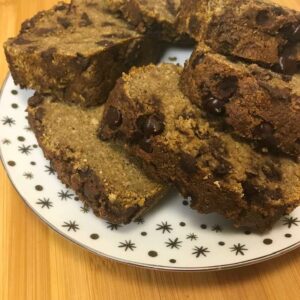 Ingredients:
1 can pumpkin puree
4 large eggs
1/2 can full fat coconut milk
5 T maple syrup
2 tsp vanilla extract
3/4 cup coconut flour
1/3 cup tapioca flour
1 tsp baking soda
1 T allspice (or pumpkin pie spice)
1 tsp cinnamon
3/4 cup chocolate chips *
Directions:
Preheat oven to 350 degrees F.
Prepare a medium loaf pan – grease or line with parchment paper.
Combine all dry ingredients in a bowl.  Set aside.
In a separate bowl, combine all wet ingredients until smooth.
Slowly add dry ingredients to wet until combined well.  Fold in 1/2 cup chocolate chips.
Transfer batter to the loaf pan and spread evenly.  Sprinkle the remaining chocolate chips over the top.
Bake for 55 – 60 minutes until top is browned and a toothpick inserted, comes out clean.
In a large bowl, whisk together the eggs, pumpkin puree, coconut milk, maple syrup and vanilla
Allow bread to cool in pan for 10-15 minutes.  Remove from pan and let cool completely on a wire rack before slicing
Enjoy!
*Use Enjoy Life Brand chocolate chips for a completely dairy free recipe.  Use Lily's brand chocolate chips for a sugar free chocolate chip option.